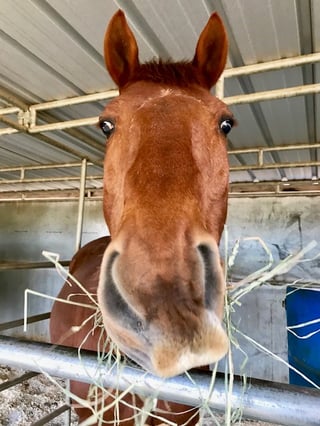 Happy bug free National Meet a Horse Day from Hansi, my goofy Hanoverian
Supposedly from all the reports we're seeing lately, this is another bad year for bugs. In the East, they say they have more bugs because it was a wet winter. In the West, they say we have more bugs because it was a longer, wetter winter. Whatever. All I know is that I'm seeing an early bunch of ants, spiders, earwigs and flies at my house, and I hate bugs.
Unfortunately, I picked a hobby that is intrinsically associated with bugs. Horses! But this year I started early with my secret weapon – DEsect diatomaceous earth (DE) insecticide. DE is made from microscopic skeletons of prehistoric algae – diatoms - that simply dry out and slice up insects like a samurai swordsman.