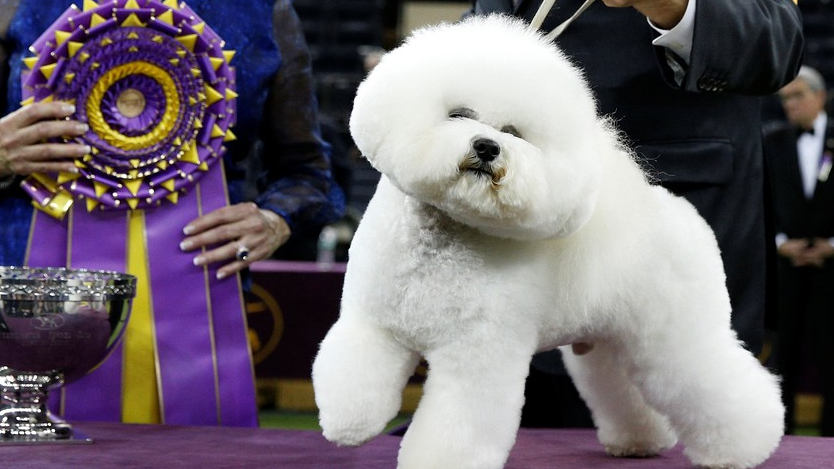 Flynn, the Bichon Frise, won Best of Show at Westminster (Photo: MarketWatch)
A cute little cotton ball won the Best in Show award at the 142nd Westminster Kennel Club Dog Show yesterday. Flynn, the little white powder puff pup, also known as aka GCHP CH Belle Creek's All I Care About Is Love, was picked over six other champs including a popular pug named Biggie and Ty the giant schnauzer. We also had a Carson City, NV canine celebrity do well this year. Adele, a Spinone Italiano owned by Carson City Deputy Director of Emergency Management Stacey Belt, won best dog out of 12 in her breed. Yay Adele!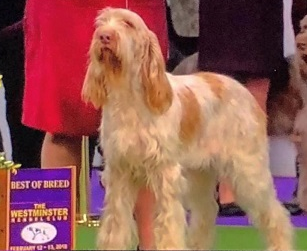 Adele, the Spinone Italiano from Carson City, NV won the Best of Breed class.
Now that Flynn the puff ball is a celebrity, he has a busy schedule. Today includes visits to the morning TV news shows, a steak lunch at Sardi's, a trip to the top of the Empire State Building, and he's been invited for a walk-on part at a Broadway hit "Kinky Boots." I tell you. The life of a dog. Flynn's next plan is to retire, so he can just be a dog. He loves belly rubs and rolling in the snow. He's probably allowed to jump on the bed. My guess is he doesn't have fleas. But if he did, I'm sure his owner would want an organic insecticide that's really effective on fleas. Hey, we have a product like that!
And, it's worthy of a best in show prize for products – it's DEsect, our OMRI-listed for organic use diatomaceous earth (DE) organic insecticide.
The most effective diatomaceous earth insecticide available today.
DEsect is produced from a very unique source of DE that has shown to be more effective than any other DE insecticide product on the market for killing insects. Independent studies show that DEsect is clearly better for insect control. When insects come in contact with DEsect, it absorbs their protective wax coating and their bodies are damaged by the sharp edges of the particles. DEsect also absorbs the insect's body fluids and they eventually die by dehydration. There is no built-up immunity as there is with chemical insecticides. DEsect does not break down as chemicals do, and the more it is used, the more insects feel unwelcome in the area.
DEsect is effective against fleas, mites, ticks, lice, and other pests for use on pets, poultry, and other livestock. It's a perfect insectide for homes, farms and ranches and it's easy to use.
Dust the animals liberally and lightly work the DE into the hair of the animal, or provide a box or loose bag of it for animals to roll in or rub against to dust themselves. Dust the ears of the animal with care. Dust the animal's bedding and areas where the animal sleeps, as well as cracks and crevices adjacent to them. It may take a few applications, but DEsect will kill the bugs.
My big chocolate lab, Calvin, watched Westminster last night. He loves to watch animals on TV, especially dogs.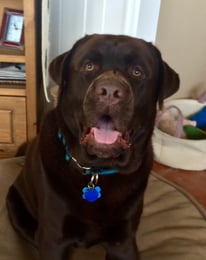 Calvin the chocolate lab. Loves dogs on TV and DEsect.
Calvin was utterly entranced by the Westminster Dog Show, especially the big dogs. His choice for best in show? The Bull Mastiff. Oh well Calvin, maybe next year. Here's to Flynn the cute little puff ball!