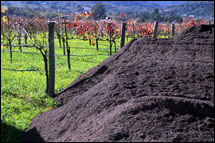 Compost mixed with diatomaceous earth at California winery
"Turning the spent diatomaceous earth (DE) filter cake into compost produced significant results for the vineyards in achieving regulatory compliance, lowering costs and creating sustainable value." according to Andrew Welford, Director of Commercial Sustainability at EP Minerals.
Check these results out: 200 tons of waste diverted from landfill. And, a significant reduction in greenhouse gas emissions.
200 tons of waste diverted! That's unbelievable. Here's the story.