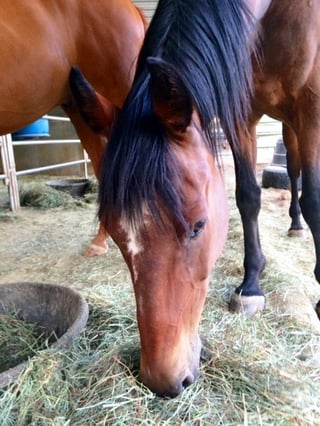 Happy bug free National Help a Horse Day!
From all the reports we're seeing lately, this is another bad year for bugs. In the West, they say we will have more bugs because it was a fairly dry winter. In the East, they say we will have more bugs because it was a longer, wetter winter. Whatever. All I know is that I'm seeing an early bunch of ants, spiders, earwigs and flies at my house, and I hate bugs.
Unfortunately, I picked a hobby that is intrinsically associated with bugs. Horses! (fyi, that would be my 25-year-old retired dressage horse Brit in the photo.) This year I'm starting my bug killer mission early with my secret weapon – diatomaceous earth insecticide (DE). The DE insecticide is made from microscopic skeletons of prehistoric algae – diatoms - that simply dry out and slice up insects like a samurai swordsman!
I used diatomaceous earth insecticide at my barn last year, but I think I started too late in the season and didn't use enough. Now I've got it down. This year, I started using EP Minerals' DEsectTM, our OMRI listed (organic) insecticide a few weeks ago, and I use more of it. Every morning after I feed the horses and clean the barn and corral area, I arm myself with a small bucket of DE. I sprinkle it all over the manure pile until it's white. I use it on any wet spots around the corral. I put it in the horses' stalls in wet spots in addition to the shavings. I put it around the feed barrels where spiders like to hide. I'm a regular barn girl bug killing machine with my DE! I feel a lot better using DEsect insecticide over the chemicals I used to use. Those can't be good for the horses or me.
I'm also spreading DEsect around the perimeter of our house, in the flower beds and around the bushes and trees. Goodbye, bugs!
So, does all this effort paid off? You bet. Last year we had very few flies, no earwigs, ants or spiders, but we still had bees, which is great. We haul our manure to our neighbor's compost pile, and she is happy because the DE that's in the manure makes for amazing garden material.
On a related subject, today is National Help a Horse Day, a national celebration and contest to raise awareness of the plight of horses. Equine rescues and sanctuaries are encouraged to host an event highlighting the work they do and showing community members how they can help. You can learn more about National Help a Horse Day here https://www.aspcapro.org/about-campaigns/aspca-help-horse-day-come-innovate-us and check out the $100,000 grant pool for equine rescue groups.
You're probably asking yourself - what exactly does that have to do with EP Minerals and diatomaceous earth? Believe it or not, it is all related. First, we are animal lovers here at EP, especially when it comes to horses, cats and dogs, and we love people who rescue them. I personally rescued a two year old horse off the racetrack, Café.
Second, EP Minerals is committed to the environment and sustainable solutions. In addition to our mine reclamation efforts, we provide and maintain wildlife habitats in the areas that we mine and operate. Here in Nevada, that means wild horses, burros, and bighorn sheep.
So, Happy National Help a Horse Day! And, remember to start now with DEsect insecticide. It's super effective. Bugs just can't become immune to it's mechanical action.