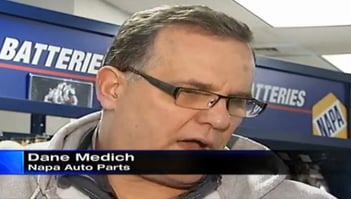 Quick! 12,000 gallons of water per minute are headed toward your store. There's a broken water main right behind your business and the water is traveling fast. What are you going to do? Well, in the case of Napa Auto Parts store owner Dane Medich, he had the answer in his store - Floor Dry! According to Medich "Floor Dry saved my building from the flood." Watch the video here: http://www.wpxi.com/videos/news/water-main-break-floods-shaler-homes-businesses/vDJPj/.
Dane Medich owns a Napa Auto Parts store in Shaler, PA, right outside of Pittsburgh. One night last month, local authorities contacted him to let him know about the water main break. They told him that in 15 minutes, his store would be flooded. Medich rushed to his store and grabbed all the Floor Dry absorbent that he could to use as a barrier and absorbent all around the outside of his store. The Floor Dry kept the water at bay and Medich's store did not get flooded.
Floor Dry is a diatomaceous earth (DE) absorbent product made from 100% natural minerals with no chemical additives. It's environmentally friendly and won't damage asphalt, cement or tile. To learn more about Floor Dry and other absorbent products click here.
Learn more about EP Minerals: http://blog.epminerals.com/industrial-minerals-part-of-every-day-life