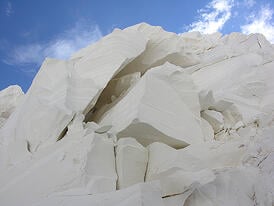 Diatomaceous Earth, EP Minerals Lovelock Mine
By John Seelmeyer, Northern Nevada Business Week editor. This story will appear in NNBW's upcoming Made in Nevada publication, to celebrate the state's 150th anniversary.
Even if you're reading this early in the morning, your life probably has been touched in multiple ways today by the diatomaceous earth, or other industrial minerals, mined and processed in Nevada by Reno-based EP Minerals.
Surprised? Consider:
Your morning juice, your evening beer or wine or the honey you squeezed into your afternoon tea may have been filtered with diatomaceous earth (DE).
The matte finish in the paint on your living room wall was created with diatomaceous earth.
Water in the swimming pool you enjoy almost certainly was filtered with diatomaceous earth.
The plastic bag you used at the grocery store for fruits and vegetables probably was manufactured with a dusting of diatomaceous earth that allowed you to overcome its natural stickiness and open it.
Farmers use diatomaceous earth in their fertilizer as an anti-clumping agent. As a bonus, the diatomaceous earth helps the fertilizer hold water once it's applied.
Animal feeds, too, use diatomaceous earth as an anti-caking additive. DE is also a natural insecticide that kills bugs by drying out their exoskeletons.
The abundant deposits of diatomaceous earth that EP Minerals mines in central Nevada were created five to 20 million years ago, when Nevada was covered by prehistoric lakes.
Diatoms — single-cell aquatic plants that were an important part of the food chain — left tiny silica skeletons behind them when they died. When the lakes dried, the deposits of diatoms were left behind.
Unlike most areas of the world in which deposits of diatoms were eroded away, the large and high-quality deposits in Nevada were protected under a cap of volcanic ash.
Today, EP Minerals operates mining operations near Lovelock, near Fernley and across a wide swath of quarries east of Reno. Along with diatomaceous earth, its Nevada operations produce perlite, a hard mineral with widespread uses in construction materials such as roofing and siding. A new EP Minerals facility in eastern Nebraska processes perlite mined in Nevada for use as a filter at enzyme production facilities. The enzymes are used to make biofuel, along with beer, detergent and other products. The company also operates a mine and plant in eastern Oregon and a mine and plant in Tennessee, with the clay being used in absorbents, kitty litter and baseball infields.
"Our products touch most everything on the planet that people use, and they just don't know about it," says Julie Brown, a spokeswoman for EP Minerals.
Most of the company's worldwide staff of 570 employees works in Nevada, and Brown says they're busy these days.
EP Mineral's Nevada mines and processing plants are running three-shift operations seven days a week as they fill orders from customers around the world.
Because diatomaceous earth is an important part of so many products, Brown says EP Minerals' order book is an important indicator of the economic outlook.
"We' seen some really good growth in the past couple of years," says Brown.
But the company isn't satisfied yet. It's developing new products, looking for new opportunities and has set aggressive growth targets for the future. To learn more about EP Minerals, visit www.epminerals.com.