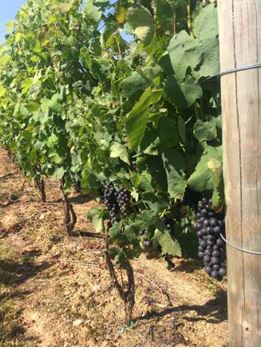 Grapes on the vine in Napa Valley
Thanks to the Napa Vintners for providing information on this year's harvest.
It's not even Halloween and the Wine Harvest is done. The first grapes for sparkling wine were picked on July 22 and by October 10 most vintners in the region had brought in the last of their grapes.
Overall, winemakers are giving high praise for the quality of this year's Napa Valley wine grape harvest which will also be remembered as one of the earliest ever. Although Napa Valley received nearly 75% of normal precipitation for the year, the relatively dry and warm winter resulted in small clusters of grapes with highly concentrated flavors. Early bud break gave way to a cool spring with a long flowering period followed by somewhat uneven fruit set. Temperatures throughout the growing season were even and warm, although a surge of hot temperatures in the final weeks of harvest brought things to a quick conclusion.
How will the drought affect wine quality this year?
The relatively dry and warm winter resulted in challenges for the wineries. Winemakers have been working hand-in-hand with vineyard crews and some are employing new technologies, like optical sorting, to ensure they are picking and crushing only the best quality grapes. Although it is a bit early to tell, the expectation is that the wines from the 2015 vintage will have deep, rich flavors.The vintners are already hard at work processing this year's harvest into the amazing whites for 2016. We'll have to wait until 2017 for the reds.
Wineries use our special grades of Celatom DE to filter the wine for the best taste and clarity. To learn more click here.