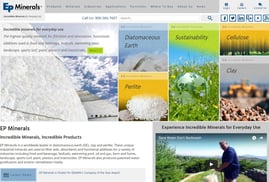 Happy New Year! And happy new "incredible" EP Minerals website. Okay, "incredible" is our word, and it might be a bit much, but we're excited about the new site and how it helps our customers find what they need. The actual words we've heard from our customers include: "easy to find stuff," "good information," and "like the product search". We redesigned our website with you, our customers in mind, so we're glad to get the good feedback. If you haven't visited epminerals.com lately, you might want to take a look around and see what you think. We'd love to hear from you.
Based on customer responses so far, here are the Top 5 reasons why epminerals.com is "incredible":
The Product Finder Feature. We worked hard to develop a great filter so you can find the right product. Search for a product to meet your needs by Industry, Application, Function or Mineral. Or go to the Products page and use the "Find Your Product" filter. We've put dropdowns to help narrow your selection by what you type or select. The filter automatically narrows down the products that meet your specifications.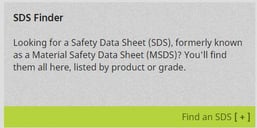 SDS Finder Section
The SDS Finder. Safety Data Sheets (formerly known as MSDS's) are a snap to find with the SDS Finder, a special section of the site that contains every SDS for every product.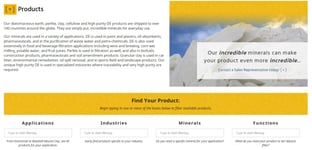 New Product page
If you register, you see more stuff on the product pages. It's like magic. Are you registered for our library? You might want to, because it's the only way to see everything you might want for every product. Register online today – it only takes a minute – and when you're approved – all of a sudden you'll see more documents and information on the product pages.
It's packed full of good info. One of our goals in developing the new site was to provide more information about our minerals, our products, new developments and content that is of interest to you. Please sign up for the blog and visit us on Facebook, Twitter, LinkedIn & Google+, too.
Oooh - Responsive design. Try out the new site on any device & it looks snazzy and works well. On your iPad, phone, tablet, laptop – it's all good.
3 ways to buy. Whether you want to buy products from a distributor in your area, direct from us, or from our online retail distributor (for small packages), ProTerra, we're giving you options for what works best for you.
So go ahead. Have a field day checking out the new site and let us know if you have ideas for the future. We love to hear from our customers. You can message us here: https://epminerals.com/contact-us