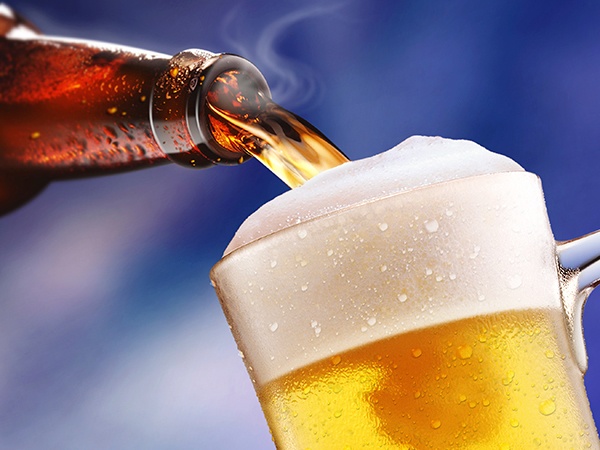 Got beer? How 'bout wings? For most Americans that enjoy the Super Bowl, the season's biggest game is much more than just a sports event. In many ways, Super Bowl Sunday has become a true American holiday. And like with most holidays, food and drinks both play an important role in our national celebration. With millions of viewers expected to watch Super Bowl LII, many will gather with friends and family to watch the Patriots and Eagles, and that means they're be digging in to a host of traditional game day favorites like chips, Buffalo wings, and beer. But are wine, vodka and whiskey overtaking beer?
First of all, let's set the record straight. Good thing all those spirits are filtered with diatomaceous earth (DE) filter aid!
Despite the Super Bowl traditionally billed as a beer-drinking event, consumers are starting to choose beverages other than beer. According to a recent Nielsen survey conducted by Harris Poll, 57% of Americans who say they plan to host others for the big game and are serving a variety of beverages. While beer remains the No. one adult beverage choice for the Super Bowl, 20% say they'll drink wine, and 20% say they'll drink some form of spirits.
Beer sales rose by $40 million the week before the Super Bowl last year, according to Nielson; meanwhile, wine and spirits were up a not-too-shabby $20 million. Recent data from Mintel, a London-based market research firm, says 31 percent of football fans prefer wine to beer or hard liquor. Today there are more female football fans than ever — 46 percent of NFL fans are women, according to Nielson Consumer Insights— and more women could mean more wine. According to a Gallup poll, 50% of women choose wine as their favorite alcoholic beverage.
Among fans both male and female, 63 percent prefer an alcoholic beverage during a game, Mintel reports. Despite the stereotype that men are from planet beer and women from planet wine, beer sales overall declined in recent years. More men are drinking wine or other spirits.
What is interesting: The largest consumers of wine in the country today are millennials. Male and female millennials consume nearly 50 percent of the wine in the U.S., preferring it to beer and spirits.
They also love football. Nielsen reports roughly 65 to 67 percent of millennials watch the NFL, and, according to the Wine Market Council, they consume 42 percent of all the wine in the U.S.
Another interesting fact: Many NFL players have also taken time to involve themselves in the wine industry. Greats like Dan Marino, Drew Bledsoe, Dick Vermeil, Mike Ditka, and Joe Montana all joined the wine industry in retirement and now produce their own labels. In 2015, the Minnesota Vikings' Terence Newman, then the NFL's oldest cornerback at 37, credited his longevity to red wine. Yo, Tom Brady. That on your special diet?
I was curious if our office followed these trends, so I conducted an informal survey of coworkers. Out of the 28 people I talked to, the breakdown was as follows: 12 women, and 16 men. We had one "I'm still pissed about this we were robbed Steelers fan", 14 avid fans, 12 casual fans, and one uninterested in football, who asked me "Who is playing?" Being an avid football fan myself, I literally snorted. As far as age goes, I talked to 12 Baby Boomers, 12 Gen Xers, and four Millennials.
Across the board, beer won out across the age and gender groups as the Super Bowl favorite drink in our office. With the boomers, the wine was a close second to beer, followed by vodka. With the Gen Xers, beer was a 75% favorite, and vodka and tequila tied for second place. The millennial NFL fans were pretty evenly split between beer and wine. I did get one "green tea" and one "Red Bull" in the mix – both from Boomers. Okay then. The women's beverage of choice wasn't significantly different from the men, no matter their age.
Other fun Super Bowl stats:
Cases of beer sold on Super Bowl Sunday: 49.2 million
Chicken wings sold on Super Bowl Sunday: 125 million
Pounds of avocados used for guacamole on Super Bowl Sunday: 71 million
Rise in pizza deliveries: 35%
Rise in 7-Eleven's antacid sales the day after: 20%
So, what will you be drinking on Super Bowl day? A quick survey in our office gave the nods to Coors, Bud, Guinness and the local Reno favorite - Great Basin Ichthyosaurus - or "Icky" IPA, of course.
Final thoughts. Hope you have a fun Super Bowl day, always drink responsibly, and hope your team wins. And, while you're at it, consider the diatomaceous earth filter aid that made your favorite drink possible. DE high-quality filter aids produce the finest clarity, taste, and quality in beer, wine, vodka, tequila or whatever you choose. Cheers! or Dilly Dilly!
Thanks to Kori Frederick and Nielson consumer insights for Super Bowl fodder and stats!