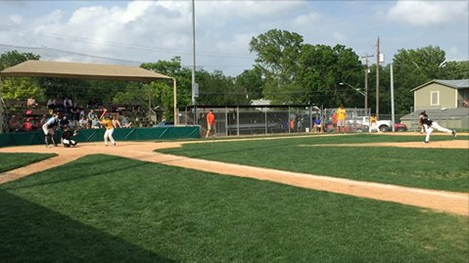 Northwest Little League Field in Austin, TX before the flood.
Picture this. 6 inches of water on the field. You can't see the grass or the dirt. And it's right in the middle of Little League playoffs. That's the situation that Northwest Little League from Austin, TX, found themselves in this past Monday. Thanks to a whole lot of Play Ball!® Infield Conditioner, they were able to play on Tuesday night.
"We couldn't believe it. Monday we were flooded out and Tuesday night we're playing ball – all because of Play Ball!," said Eddie Joseph from J&M Stone in Austin, TX. "People keep asking me – what did you guys do? No one else was able to play because of the flooded fields," said Joseph.
Two tons of Play Ball! were used on Monday to soak up all the water and get the field to drain. By late Monday, the field was completely drained. That was followed up Tuesday morning with another 10 bags of the infield conditioner, a good drag of the field and the field was ready for the first pitch.
"I want to become a distributor of this product," said Stone. "It's that good!"
For more information on Play Ball! Infield Conditioner and the complete line of Groundskeepers' Choice Baseball infield products, click here.
Read the blog on BallGame Changer™ & EP Minerals complete line of baseball infield products: http://blog.epminerals.com/create-the-perfect-infield-ballgame-changer-and-playball