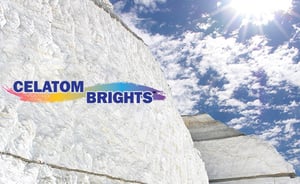 Diatomaceous earth cliffs at EP Minerals Lovelock, NV mine.
Get out your sunglasses. This stuff is the brightest white DE available & perfect for the paint & coatings industry. It's Celatom Brights, the new line of diatomaceous earth products, just for paint and coatings. This week in Nuremburg, Germany, it's the European Coatings Show at the Exhibition Centre Nuremberg. We're there talking about our new CS-free, high performance coatings additives including flux calcined DE, natural CS-free DE and perlite, cellulose and PE thixotropes.
We're excited about this new product line for a few reasons. They're CS-free, which means you'll spend less time on regulatory issues. They're lower density, which gives you more performance with less additive. They improve TiO2 spacing. Oh, and did we mention – they're really bright white.
Stop by the Solvadis booth in Hall 4, booth 4-637 and talk to us about Celatom Brights and their opacifying and matting capabilities.