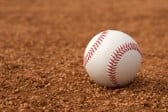 The recent freezing temperatures have us all thinking about sun, warmth and baseball! And just in time for spring training, we're introducing a brand new clay baseball infield conditioner.
It's a revolutionary new product with patent pending KT3 Technology, designed to keep fields moist, control dust, and reduce water usage.
"You've never seen anything like this," said Jeff Kitchens, vice president of performance aggregates for EP Minerals. "This product is an incredible leap forward to manage baseball infields and solve problems for today's groundskeepers. It controls dust, keeps the fields moist, and keeps playing conditions consistent for the whole game," said Kitchens.
EP Minerals' engineers and chemists worked for months to perfect the KT3 Technology soil moisture management capabilities in BallGame Changer. When combined with the infusion of a proprietary blend of non-ionic surface treatment, BallGame Changer uses the absorptive properties of calcined clay as a conditioner to allow more water penetration. "We then tested BallGame Changer at major league, minor league, college, and high school fields around the US. The result was a product that provides increased moisture retention even in extreme heat, lower water applications, and great dust control," said Kitchens. "That means reduced water costs and less maintenance, all with better playing conditions. You can't beat that," added Kitchens.
EP Minerals has developed four versions of BallGame Changer for different infield uses: BallGame Changer with KT3 Technology, BallGame Changer Regular Conditioner, BallGame Changer Mound Clay, and BallGame Changer Drying Agent.
EP Minerals will be introducing BallGame Changer at the Sports Turf Management Association (STMA) show in San Antonio, Texas, January 21-24, at the Henry B. Gonzalez Convention Center. Game Changer will be featured in the Southern Athletic Fields booth (#331) and Gail Materials booth (#480) To learn more about BallGame Changer, visit https://epminerals.com/products/ballgame-changer or call 1-800-366-7607.