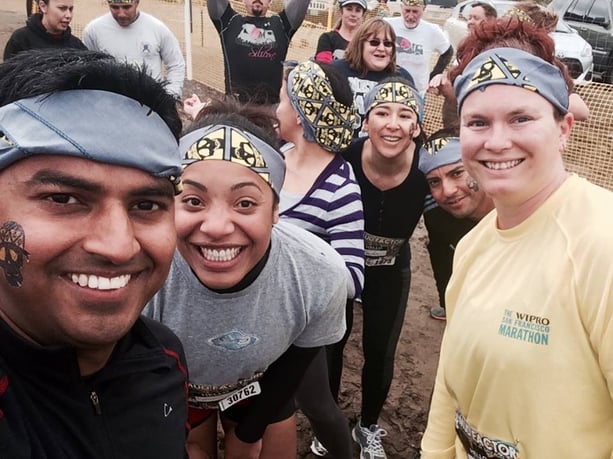 EP Minerals team competes at Mud Factor
What's the most important thing to employees? More than likely you said compensation. Well, that's not the most important thing anymore. In a recent Gallup survey, 95% of employees said that having an engaging company culture was more important than compensation. And, with employees younger than 30 years old, the number was even higher. The Gallup survey also stated that "disengaged" workforces cost companies more than $450 billion every year. Bottom line: Building an engaging culture is critical to the success of any company.
So, how can you create an engaging culture at work?
Building a company culture is tough, but it's more important than ever. While we have a unique company culture here at EP Minerals and EP Engineered Clays, we continually work to improve it. Gallup's survey showed that 94% of executives and 88% of employees believe a distinct and positive workplace culture is important to the company's success. Both executives and employees alike believe that culture is a key signal of how well a company is doing, and company success can be highly motivating and exciting for the whole team. In fact, the survey shows that culture can outrank traditionally important benefits such as health and wellness benefits.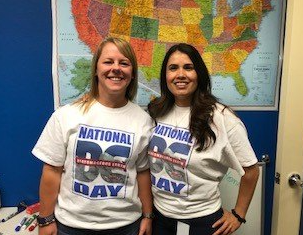 Frankie Ingram & Yesenia Jacinto celebrating National Diatomaceous Earth Day (it's a BIG deal at EP Minerals!)
It seems incredible that culture is more important that compensation and benefits. But research has shown there is a correlation between employees who say their company has a unique, positive culture and employees that say they are "happy at work", feel "valued by the company" and are engaged. Research shows that workplace engagement leads to greater participation in wellness programs and a higher level of employee productivity. That means having an amazing company culture is the key to everything.
"The more effective a company's culture is, the more engaged the workers, the better the reputation, the greater the company's success, and the stronger the company's ability to attract talent," says Jena Brown, AKA Talent Junky, an independent recruiting operations and brand strategist.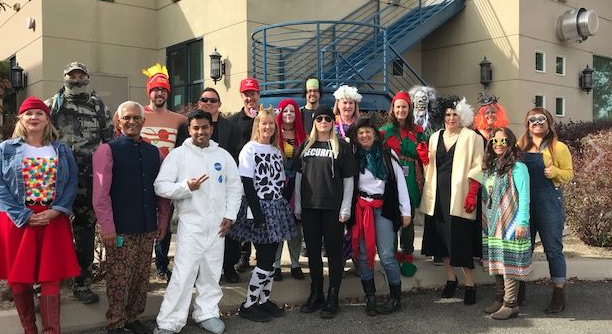 Halloween at EP Minerals
At EP Minerals and EP Engineered Clays, we're not like any other company. We're different. And we think that's a very good thing. Especially when it comes to our company culture.
What exactly do we mean by that? We're different in how we treat our customers, different in how we work with each other and our suppliers, and different in what we do and how we do it. We not only believe in being a good company to work for and a good corporate citizen in the communities where we live and operate, but we also believe in being a good environmental steward in how we conduct our business.
Every day, we commit to our Mission: to provide our customers with the highest quality industrial minerals and deliver them with amazing customer service and technical expertise.
Our ability to deliver on our Mission is embedded in our unique culture, best described by our 25 Fundamentals-the EP Way. It's what makes EP Minerals different than any other company. We all have a shared purpose through our vision, our mission and the Fundamentals. These principles guide all of us in how we conduct ourselves, how we make decisions and how we do business every day. Click here to learn more about the EP Way.
Every week, we kickoff with one of the Fundamentals and focus on that throughout the week. It's the way we start our meetings throughout the company, and employees offer up their examples of the fundamental in action.
Our employees tell us that the EP Way Fundamentals really do help them do their jobs better, simply because they have guidelines that help them make the right decisions.
We believe that culture isn't something you can set and forget. You have to work at it everyday – to truly integrate it throughout the company. We're really do work at it and we're mindful of our employees' opinions about how to continually improve our culture.
Every week, we share our Fundamental of the Week with you, just like we do with our employees. Each week, we'll put out the Fundamental of the Week in social media. Please join us on Facebook, Twitter, or LinkedIn. Let us know what you think, and how that Fundamental might be important in what you do. We want to hear from you. We are always looking for ways to improve and make our company culture better.
Interested in joining the EP team and becoming part of the EP Way? Check out our Job Openings.