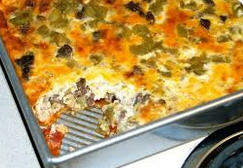 Chili Relleno Casserole
We love Fridays around here. Not just because it's the end of the week, but because it's breakfast day! Every Friday, a different EP-er brings breakfast for the whole office. How fun is that?
We've had blueberry pancakes, overnight French toast (my personal favorite) breakfast casseroles, breakfast sandwiches, homemade oatmeal with your choice of 10 toppings and even elk or smoked salmon that one of our hunters or fishermen caught. It's not always super fancy – sometimes it's just bagels or donuts with fruit and yogurt. But that's okay too. It's an EP Minerals ritual that we all look forward to. It's our EP Way of celebrating the end of the week and sharing a little conversation and yummy food with our coworkers as we launch into our day (one of these days, we might have to do some recipes with diatomaceous earth!)
Today's breakfast: Chili Relleno Casserole. And it was all gone in about 5 minutes. Please make more next time!
Here's the recipe:
Chili Relleno Casserole
2 C half & half
2 eggs
1/3 C flour
1 8 oz. can diced green chilies
1 4 oz. can tomato sauce
Garlic powder, onion powder to sprinkle on top
Lots of shredded cheddar & jack cheese
Blend the half & half, eggs and flour. Layer a few times in 8"x8" pan, the eggs, diced chilies and a bunch of cheese, ending with the cheese mixture. Top with tomato sauce. Sprinkle with garlic powder and onion powder. Bake at 375 for an hour. Top with sour cream, salsa and maybe wrap in a tortilla. Yum.
Well, it's back to work now and EP Way Fundamental #12 – Deliver Results.