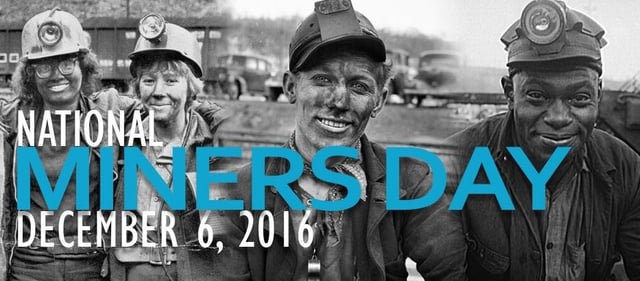 Today's post is from Joseph A. Main, the assistant secretary of labor for mine safety and health
As the saying goes, "If it isn't grown, it must be mined." And each day, more than 366,000 men and women in America go to work extracting ore from the ground at nearly 13,600 surface and underground mining operations.
The materials are as diverse as they are numerous, and each one plays a critical role in the quality of our lives.
Electricity is generated by coal, which heats our homes, businesses and communities. Gravel, crushed stone and cement build the highways and bridges that crisscross the country. Gold, silver and copper wiring, ceramic insulators, and silicon processing and memory chips are essential to the smartphones, computers, televisions and other electronics we use daily. Thousands of other common consumer goods, such as cosmetics, toothpaste, cookware and even kitty litter exist thanks to the hard work of miners.
To honor the contributions and sacrifices of these workers, both past and present, Congress designated Dec. 6 as National Miners Day. The date commemorates the worst industrial mine accident in American history when 362 miners perished in 1907 in an explosion at the No. 6 and No. 8 mines in Monongah, West Virginia.
The Mine Safety and Health Administration takes this day to heart. Many of us have a personal connection to miners through family, friends and our own experiences. We may have worked in mining ourselves, as I did starting as an 18-year-old in the coalfields of northern West Virginia. Nearly all of the hundreds of MSHA inspectors who work across this country came to us with mining experience, and they talk with miners nearly every day.
As the Senate resolution notes, "Miners and their families have achieved, provided and sacrificed so much for the betterment of their fellow Americans." And in spite of dramatic improvements in health and safety, "Miners still today risk life and limb in their labors."
Sadly, many of us have seen the consequences of their sacrifices, but mine safety has vastly improved since Monongah. We share the pride of the entire mining community that has helped make these steady and important improvements.
On this National Miners Day, we salute the men and women who have chosen the occupation of mining. And at MSHA we rededicate ourselves to our core mission, so that all miners have an opportunity to go to work, put in their shift, and return home free of injury and illness every day.
To learn more about the minerals that EP Minerals mines, visit https://epminerals.com/minerals