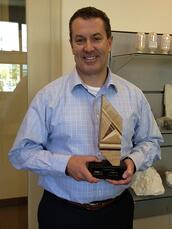 President Gregg Jones with EDAWN Founders Award
"These primary companies represent only about 4 percent of the companies in the region, yet they are responsible for approximately 50 percent of our jobs and essentially drive our economy," said Mike Kazmierski, CEO of EDAWN (Economic Development Authority of Western Nevada), who helped present the awards Tuesday night.
Pretty exciting for EP to receive Congressional and Senatorial Recognition along with the likes of Amazon, Anixter, AT&T and James Hardie. Great to see all the exciting developments and growth to Northern Nevada. EP received the "Founders Award" from EDAWN because of our longevity in the region and our economic contribution to the area. Not many companies can match our 70 years in business nor the growth and success we've had through those years. Did you know that EP Minerals is the largest exporter in Nevada of sheer truckloads of product?
Nearly 50 companies from Washoe County, the Tahoe Reno Industrial Center and Fernley, were nominated for top honors in 12 categories. Here is the full list of EDAWN winners:
Biggest Little WOW-Access Event Solutions
Corporate Citizen Small-Computerized Screening Inc.
Corporate Citizen Large-Haws Corporation
Employees First-Fortifiber Building Systems Group
Founders Award-EP Minerals
Leader in Sustainability-Trex Company Inc.
Supply Chain Excellence-AVA Logistics
Think Local Small-AD Hawk
Think Local Large-Belnick Inc.
Community Partner-Reno-Tahoe Airport Authority
Company of the Year Small-NevadaNano
Company of the Year Large-NOW Foods
To read more about the event and winners, visit http://www.rgj.com/story/money/business/2014/10/14/now-foods-heads-edawn-award-winners/17249689/
To learn more about EP Minerals, visit www.epminerals.com.