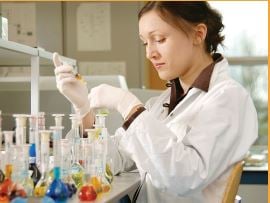 Exceptional purity and consistent quality are the hallmarks of EP Minerals' PurifiDETM diatomaceous earth (DE) based filter aids. PurifiDE products are used for the production (bioprocessing) of life-saving drugs from donated human plasma, and blood, and in the preparation of the most exquisite whiskeys, sakes, and green teas.
In these 'high-tech' applications, PurifiDE does amazing things such as separating precipitated proteins from proteins in solution, capturing unwanted cells and contaminating host cell DNA, and removing fine particulates during whiskey and green tea manufacturing, while maintaining the most natural color and taste.
Like all EP Minerals' DE, it is incredible that at the microscopic level, PurifiDE contains the beautifully-structured skeletons of single- celled aquatic plants (diatoms) which lived several million years ago in fresh water lakes in Nevada. These large deposits of close to pure microscopic structures are naturally occurring microfilters, ideal for use in the clarification of even very viscous liquids.
DE ore used in the manufacturing of PurifiDE is mined from specific locations known to have low levels of contaminating metals, treated using highly controlled and proprietary processes, to reduce contaminating metals such as arsenic, aluminum and iron to trace levels (parts per million), and quality controlled with the strictest standards to provide customers with our highest quality filter media.
All PurifiDE products are manufactured according to ISO 9001:2008 quality standards and users receive proper documentation to ensure traceability.