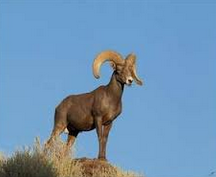 It's not every day that you go to work and hear "we're getting a guzzler!" It certainly sounded interesting, so I had to learn more. As I found out, it's a special watering trough for the desert bighorn sheep.
Which leads to the bigger story about EP's recent involvement with the Nevada state animal.
A few months ago, EP Minerals worked with Nevada Bighorns Unlimited to take on and provide a habitat for a herd of bighorn sheep. The 20 or so desert bighorns now live in an area just south of our Clark plant and mine. And they're apparently doing quite well in their new home. Our Clark team reports frequent bighorn sightings. The sheep love to stand atop the ridges and look over the goings on below. They thrive in the rough, rocky steep terrain. Desert Bighorns have been around for over 11,000 years. At one point, there were 1.5 million animals in North America, but they almost became extinct around 1900. A conservation effort led by President Theodore Roosevelt helped prevent extinction and today there are about 70,000 in mountain ranges in the West.
With the current drought, the animals need water. And, while the Truckee River isn't too far from where the animals are for a water source, they prefer to remain in the areas that are more remote. This is where the guzzler comes in.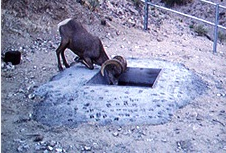 What exactly is a water development (also referred to as guzzlers)? Guzzlers are metal, fiberglass or other suitable materials and are built in areas where there is not enough water to support wildlife without a supplemental water sources. While guzzlers are built to benefit primarily big game and upland bird species, they also provide a valuable source of water for wildlife of all types and sizes. An "apron" structure collects rainwater or snowmelt and stores it in tanks; the tanks then feed the water to a drinker that can be accessed by wildlife. NDOW, the U.S. Bureau of Land Management, U.S. Forest Service, and U.S. Fish and Wildlife Service have installed more than 1,600 guzzlers throughout Nevada.
For more information on Nevada Bighorns Unlimited, visit http://nevadabighornsunlimited.org/.
For more information about EP Minerals corporate responsibility & sustainability efforts, visit: