"Diatomaceous Earth Spent Cake Recycling – Waste or Resource?" is the topic that Andrew Welford, EP Minerals' director of commercial sustainability, will be presenting at WasteExpo's 3rd Annual Composting and Organics Recycling Conference Program in Las Vegas, NV.
Andrew is part of the panel "Air Quality and GHG Benefits of Organics Diversion, Composting, and Compost" to be held at 1:30 pm June 3 at the Las Vegas Convention Center.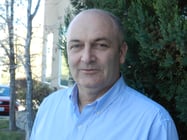 Andrew Welford, EP Minerals director of commercial sustainability
WasteExpo is the industry's largest conference and tradeshow of its kind, serving both the public and private sectors. It brings together all the players in the waste, recycling, organics, and sustainability industry. Andrew will provide an overview of how DE spent cake is being successfully recycled today into compost and fertilizer, as well as other sustainable alternatives, including solid biofuels, anaerobic digestion, and for reuse in absorbents or aggregates.
To learn more about EP Minerals' sustainability program, check out this interview with Andrew Welford, Director of Commercial Sustainability: http://blog.epminerals.com/sustainability-and-diatomaceous-earth
Watch the video showing recycling DE spent cake into compost: https://www.youtube.com/watch?v=9kXQn8X3www
Read more about recycling DE spent cake into compost: http://blog.epminerals.com/recycling-diatomaceous-earth-spent-cake-at-sonoma-compost
Learn about recycling DE spent cake into fertilizer: http://blog.epminerals.com/recycling-diatomaceous-earth-spent-cake-from-filtration-into-a-fertilizer