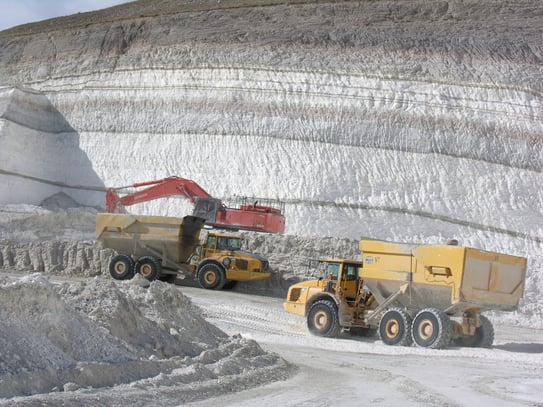 EP Minerals' Lovelock, NV mine
Safety. It's the first core value in our company's Core Values of Safety, Integrity, Respect, and Community. That shows how important it is to all of us every day. And that's why the whole company is proud of the Lovelock, NV mine ten-year safety record and the Vale, OR mine eight-year safety record – both for no lost time accidents. EP Minerals is owned by U.S. Silica, a company known for it's commitment to outstanding safety.
"We are all vigilant about safety. To a person, on every shift, every day we work," said Peter McKenzie, Nevada mines manager. "We recognize that all systems will fall apart over time if you're not vigilant, so we have to be. It's easy to get complacent and take a shortcut or not check every single bolt or screw on your equipment every day. But as a team, we refuse to let the complacency set in. Every one of us makes a verbal commitment to safety at the beginning of every shift, and we mean it. We watch each other and make the hard calls. We've all worked hard to establish our safety systems, continue our safety records, and we "advertise" that this is how we do things. No exceptions," added McKenzie.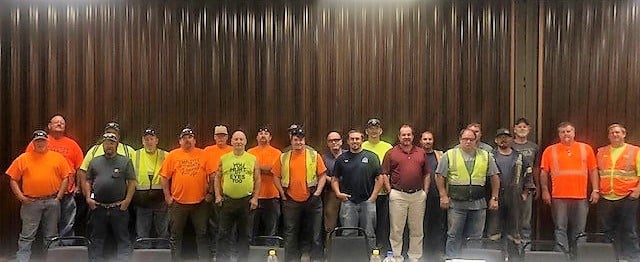 Lovelock mine team
Scott Donahoo, Vale, OR mine manager echoes that sentiment. "Our commitment to safety – it's the way it should be. We always say to each other – "You watch out for me and I'll watch out for you," said Donahoo. "Vale mine is 65 miles away from anywhere. Our team realizes that in a remote location like this, help is a long way away," he added. "We also have a public road, right through the mine, so we have to give traffic alerts to each other on the radio and make sure everyone knows what's going on," said Donahoo.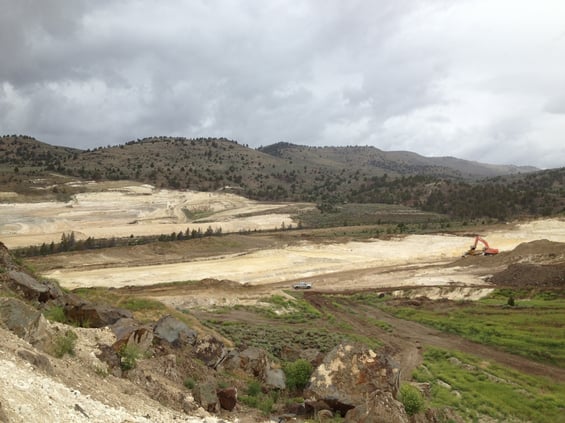 EP Minerals' Vale, OR mine
Just as in Lovelock, every Vale mine shift starts with a safety meeting and a commitment to stay safe that day. "The crew lead has already been out doing an inspection before the safety meeting, so he knows what's relevant that day – weather, equipment, and what's going on with the mine crew," said Donahoo.
EP Minerals' Lovelock is the world's largest producing diatomaceous earth (DE) mine and has been in operation since 1959. Recently, two Lovelock mine team crew were recognized by the Nevada Mining Association for individual safety awards. Don Childs, Lovelock Mine Load & Haul Supervisor, and Jack Phillips, Lovelock Mine Maintenance Mechanic were the NVMA safety award recipients.
EP Minerals Vale also mine diatomaceous earth and has been in operation since 1985. The DE mined at the Lovelock and Vale mines is very high quality, high purity, and very bright white- all desirable traits for DE. After processing, the DE from Lovelock and Vale is shipped all over the U.S. as well as internationally where it is used for filtration (diatomaceous earth filter aid) and as a functional additive for the world's biggest companies' products. Industries like wine, beer, juice, oil, swim pool, paint, agriculture, chemical, and oil and gas.
Both McKenzie and Donahoo agree that one of the toughest challenges at the mines is training new people, and both are very happy that they have long-time employees on their teams. "It takes a long time to get a new employee to learn the ropes and our safety procedures. Our whole team is on high alert with a new employee until collectively, we feel that they know their job," said McKenzie. "I'm always so proud of the way our team will train up someone new – they're good teachers, they're helpful – but they're all business."
Keys to Safety
Donahoo and McKenzie believe their keys to safety success are:
. Training: MSHA training, equipment training, hazard recognition training, one-on-one training, books, safety videos
. Constant communication: About everything. What you're doing. Where you are. What's going on. What you're seeing
. Attitude to safety. Our company's safety mantra is: Everyone returns home safe every day. Everyone agrees that safety is #1. And it's okay to call a "stop" work to be safe
. Top management vigilance to safety and support of the mine teams
"We are extremely proud of our mining teams at Lovelock and Vale, and all of our other mine employees, too. Working at our mines is extremely tough, and safety is of the utmost importance. The ten-year and eight-year safety records without a lost time accident are impressive," said J.P. Blanchard, SVP and President. "They serve as safety examples to our whole team, and also to everyone in the mining industry today."
Learn more about EP Minerals at www.epminerals.com Learn more about U.S. Silica at www.ussilica.com