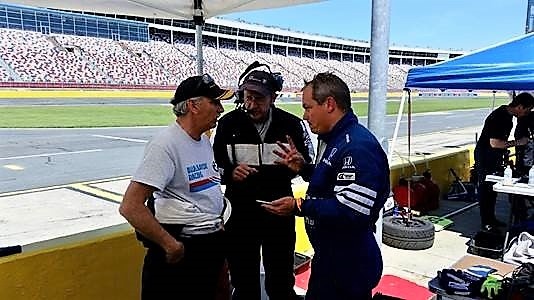 EP Minerals' Global Technical Services Director Larry Galberd and his team use EP Minerals' Floor-Dry Oil Absorbent to clean up fuel spills at the racetrack
It's time to check in on our resident racecar driver, Larry Galberd! EP Minerals' Floor-Dry, the #1 oil absorbent and spill clean up for the racetrack, is one of Larry's sponsors.
If you'll recall from a previous blog post, EP Minerals' Global Technical Services Director Larry Galberd leads a double life. By day, Larry could be anywhere in the world helping our diatomaceous earth or perlite filtration customers optimize their filtration processes and solve problems. By night and on weekends (and any other chance he gets) Larry is driving hell bent for leather at 140 mph for his Blew-By-You race car team in the ChumpCar Racing Series. Larry and his team are "sponsored" (I use that term loosely) by EP Minerals' Floor-Dry absorbent, the #1 automobile oil spill cleanup product that can be found at all the major auto supply stores today.
Go Larry! And keep promoting Floor-Dry, the #1 oil absorbent at the racetrack!
By Larry Galberd
We competed at a race in February at Road Atlanta and did OK after some car damage from a collision with a less than experienced competitor who took out our rear wheel. Finished the race but not a great placement.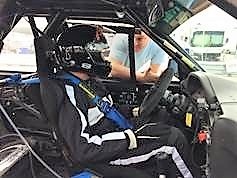 We then competed April 7th at the iconic Daytona International Raceway and went out after suffering an engine failure after only 2 hours of the 14 hour race. We were able to fix the problem and raced at Charlotte Motor Speedway April 21st. . Our expectations are always to finish at least in the top 10. Well, we kicked butt at this 14 hour race and with the 4 drivers all posting excellent lap times and some really good pit strategies we finished in 5th place in our class! We are elated with this high a finish!
This race had 64 cars starting and the track was very demanding. So a 5th place finish was awesome! We are moving up quickly and are looking toward a podium (top 3) finish at future races. Go Blew-By-You, an "EP Minerals' Floor-Dry" sponsored car (sort of)!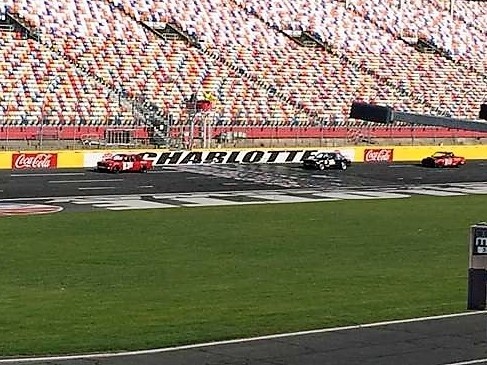 Larry Galberd crossing the finish line in his Floor-Dry oil absorbent sponsored car
The premise of endurance racing is to finish the race, and placement is based on how many laps are driven in the race. The faster cars with no problems will complete the most laps and prizes are awarded for the first three places. Driver stints last 2 hours after which the car must pit for a driver change, fueling and any repair work to the car. Best case scenario you are in the pits for the mandatory 5-minute pit stop and then the car re-enters the race. During the pit stop any spillage of fuel or other fluids leaked must be cleaned from the pit area. We use Floor-Dry granular diatomaceous earth (DE) oil absorbent to soak up these spills, and it does a great job.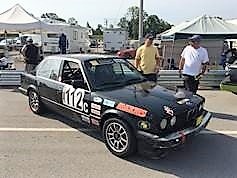 Larry Galberd always has his bag of super absorbent Floor-Dry ready to soak up oil spills at the racetrack
We drive fast as hell, back straights over 135-140 and through the turns (these at road tracks with lots of turns) some at 80-100 mph so slower depending on difficulty. It's all about lap times.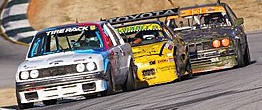 I also own a Porsche race car with one other friend and we run this car in HPDE (High-Performance Driver Education) events. These events are not full on racing, but we run on the premier Road Tracks around the Southeast ( Road Atlanta, Barber Motor Sports Park (Birmingham, AL), Virginia International Raceway, etc.). We are typically on the track with 25-30 other cars with unlimited passing allowed, and these are typically much higher speed events that the Chumpcar races (higher horsepower cars).
All of our cars are badged with EP Minerals' Floor-Dry stickers, and the oil absorbent is used in the pits. Other teams are seeing us using Floor-Dry and asking where they can get it!