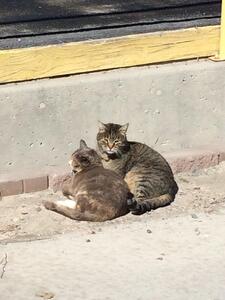 Tracy & Clark lounging outside of EP Minerals' Clark plant main building.
"It is the best cat litter by FAR that I have ever tried. I had ten cats at one time, down to three now, and never ever had to worry about litter odor or problems of any kind with a cat box. Your product is awesome!!!" Jan Daniels, Colorado Springs, CO
Thanks, Jan! We've been producing Blue Ribbon kitty litter for a long time, and we keep hearing how much cats (and their people) love it. We develop Blue Ribbon in powerful clay and a diatomaceous earth (DE) formulas. Both products absorb moisture, have high cat acceptance and are an excellent value at your local supermarket or discount store. Blue Ribbon DE is also ultra light, for easy carrying and handling, and it can absorb 1 ½ times its weight in moisture.
Cat owners today want all natural and organic when it comes to their pets, pet products, and the environment. EP Minerals mines the highest quality all natural DE and Clay to produce Blue Ribbon.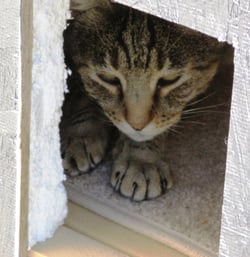 Tabby cat Tracy peeking out of his new house.
Our kitty litter experts, Tracy & Clark, give Blue Ribbon two paws up!
We have a couple of feline supervisors at our Clark diatomaceous earth plant. Tracy is a big grey tabby, and Clark's a wily calico. Their names come from NV Energy's Tracy Clark power plant, which is right down the highway from our Clark plant. These two cuties have been adopted by our Clark plant team headed up by chief "cat mom" Sharron Wilson.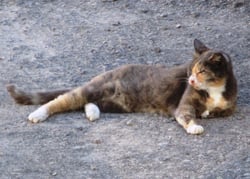 They have a new little kitty house right outside the main office so they can keep tabs on visitors to the Clark plant, and also to oversee the Clark team, who keep them very well fed. Our Clark team built a new house for them, complete with a window, just in time for winter. They can stay nice and dry and safe from the coyotes that frequent the area around our plant.
Learn more about our kitty litter options, click here.