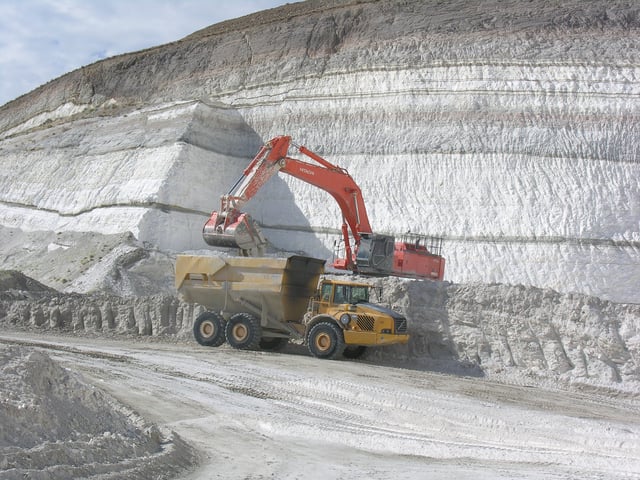 Loading diatomaceous earth ore at EP Minerals' Lovelock mine.
Global leader in diatomite, perlite and clay products used as microfiltration media, functional additives and absorbents expands its product portfolio
RENO, NV, July 17, 2017 – EP Engineered Clays Corporation, an affiliate of EP Minerals, LLC, a worldwide leader in engineered products derived from industrial minerals, announced today that it has acquired bleaching clay and mineral adsorbents assets from BASF Corporation. The transaction includes a Jackson, MS production site, a clay mine in Aberdeen, MS, and the mineral rights associated with a mine located in the Navajo Nation near Sanders, Arizona. Approximately 70 employees will be joining the newly-established EP Engineered Clays Corporation.
"We're really excited by this acquisition," said EP Minerals' President and CEO Gregg Jones. "It expands our portfolio of high-performance liquid processing and purification media and builds our share position in the attractive catalyst end market. Moreover, it provides additional opportunities for further organic growth through innovation," Jones said. "Like our traditional diatomaceous earth, perlite and clay material platforms, our new calcium bentonite (clay) materials are highly amenable to modification and the development of new high-performance proprietary products. We expect significant market, applications technology and research and development synergies with this acquisition," said Jones.
In recent years, EP Minerals has significantly increased its research and product development capabilities and has evolved from a traditional industrial minerals company into one that increasingly views itself as a creator of, and producer of, engineered materials. "We've always been known for our high-quality ores and products, our high-touch customer service and our experienced technical service capabilities. Those factors, combined with our new product innovation strategy are transforming EP Minerals for the future," said Jones. The company is developing and commercializing new proprietary products in many areas, including the following:
Conventional filtration media characterized by non-detectable levels of crystalline silica and reduced levels of extractable impurities
Ultra-high purity, ultra-high performance filtration media for the clarification of high purity liquids
Low-density, highly absorbent diatomite materials for use in lightweight pet litters
Granular diatomite soil amendments which reduce evaporation in hydroponic and conventional soil blends and growth media
Very white, bright, functional additives containing non-detectable levels of crystalline silica for use in coatings
NXT arsenic adsorption media for removal of arsenic from water
Low-dust, non-respirable powdered mineral products for use in filtration and functional additives applications
New test methods for precise determination of the mineralogy of the company's products
Multiple use micro-filtration media and associated regeneration processes
"EP Minerals and EP Engineered Clays Corporation are delighted to expand our resource and manufacturing footprints into the great states of Mississippi and Arizona and to the Navajo Nation," said Jones. Jones added: "We extend a warm welcome to our new employees and customers. We look forward to many years of success in Mississippi, Arizona, and the Navajo Nation together with our new employees. We're committed to providing the highest-quality products and services to our new customers worldwide."
To learn more about EP Engineered Clays Corporation, visit www.epengineeredclays.com
To learn more about EP Minerals, visit www.epminerals.com