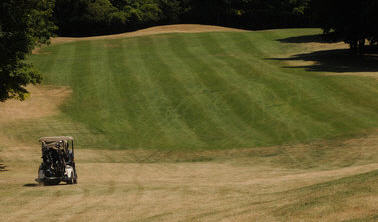 Recently California Governor Jerry Brown ordered the California state water board to implement reductions in cities and towns to cut usage by 25%. California's order also requires campuses, golf courses, cemeteries and other large landscapes to significantly cut water use and ban watering of grass on public street medians.
Here in Nevada, we've been asked to cut our water usage by 10%. The US Department of Agriculture has declared most of the state as a natural disaster. And, our Truckee Meadows Water Authority says that we're in the middle of a nine-year dry cycle, the longest on record.
It's not just California and Nevada. The entire Western US is experiencing extreme drought conditions. Scientists are blaming a resilient ridge of high pressure off of California that has been blocking winter storms from moving into the mountains. Snowpack, which provides most of the water, is only at 12 percent of normal.
Yep, brown is going to be the new green.
So, what can we do to keep our golf courses and lawns from turning brown and becoming dust bowls? We've done some water savings research with our AXIS® soil amendment products and have seen good results. Our diatomaceous earth product and calcined clay product are premium soil amendments designed to reduce water usage, improve drainage, reduce soil compaction and improve plant health. These are proven products that add permanent porosity to your soil, which leads to excellent water retention.
A few of the findings from the water savings research:
The product absorbs 114% of its weight in water. Each pound of AXIS provides one extra pound of available water, meaning that you'll need to use a lot less water on your greens or lawn (European Laboratory Labosport)
Use of the product at 10% by volume in United States Golf Association (USGA) sand increased available water by 34% (Ohio State University). Increased available water means that AXIS holds moisture in reserve for use by plants or lawns during droughty conditions.
A 70% to 99% survival of native trees and shrubs was seen when 15% of AXIS was used in the backfill, versus 20-25% without (Wyoming Department of Transportation).
Research also shows the natural porosity of AXIS provides balance to the turf during both droughty and extremely wet conditions. Well, that's good to know, in case we get any wet conditions next year.
Meanwhile, we'll all be taking shorter showers and learning how to do more with less. And, I need to run home now. It's my assigned watering day!
For more information on AxisDE or Axis Ceramic, talk to your sales representative or visit https://epminerals.com/products/axis-soil-amendment. Read the latest blog post here http://blog.epminerals.com/golf-courses-the-nfl-your-lawn-something-in-common-like-de-clay