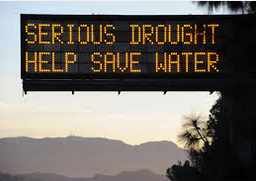 By James Sean Dickson, Industrial Minerals
The West Coast region of the US is currently experiencing one of the worst droughts in its modern history. Diatomaceous earth and calcined clay products, which increase the water retention of soils, are gathering interest for their potential to reduce water usage – something now mandated by state law.
Continuing drought conditions along the West Coast of the US are pushing up demand for diatomaceous earth (diatomite, or DE) and calcined clay products, according to Nevada-based EP Minerals.
Around 55 million people are currently affected by drought in the West Coast region according to the US Drought Monitor, a joint government and university monitoring program, and 47% and 18% of California and Nevada now stands in the organization's D4 – exceptional drought – category.
"Diatomite can hold 100% of its weight in water; clays retain 65-75% of their weight in water," Jeff Kitchens, vice president of performance aggregates at EP Minerals, told IM. Drought protection, he explained, is the fastest source of demand growth in diatomite and calcined clays. Golf courses, landscape gardening and sports fields are among those looking to cut their water consumption, Kitchens said.
The newspaper the Guardian has reported that cities, counties and agencies in California have been ordered to reduce water consumption by between 8% and 36% – with fines for noncompliance.
Kitchens told IM that EP Minerals' AXIS branded DE and calcined clay products have been proven to reduce water requirements by 30-40% in tests and that this is a solution to those suffering from water use restrictions. "Just blend it into your soil at 10-20% when planting and in a drought situation you will increase the retention of water in the soil," he said.
The minerals are able to store nutrients as well as water, Kitchens told IM, while the negative charge on clay particles also attracts cation nutrients. "Diatomite has a molecular structure that encapsulates positive ions and releases then back to the plants," he said.
EP Minerals also produces fertilizer products for domestic customers. AgReady branded DE and clay based products prevent clumping when spreading fertilizer, enhances soil aeration and reduces nitrogen based fertilizer runoff, Kitchens told IM.
Agricultural difficulties
The Economic Research Service division of the US Department of Agriculture said that the drought in California is likely to have a "major impact" on the state's agricultural production.
"Because California is a major producer in the fruit, vegetable, tree nut and dairy sectors, the drought has potential implications for US supplies and prices of affected products this year and beyond," it said. California has been criticized by left leaning US magazine Mother Jones and other interested parties for allowing the vast majority of its populace to live in large, densely populated and geographically concentrated cities like Los Angeles and San Diego, increasing the water intensity of the south of the state. The state sources much of its water supply from melting snowpack in the Sierra Nevada mountains, but poor snowfall this winter has limited its mediatory effect.
Drought likely to continue
Held back by the Hoover Dam in Arizona and Nevada, the largest reservoir in the US – Lake Mead, has seen its lowest fill levels broken day by day over the last week. The 1076.82 meter elevation of the water on 20 May, as recorded by the Lake Mead Water Database is the lowest level ever seen at the dam. In a 2015 paper entitled "Unprecedented 21st century drought risk in the American Southwest and Central Plains", published in the Science Advances journal, Benjamin Cook and others claimed that climate change is likely to exacerbate the drought problem along the West coast.
The research group used climate models to predict that the latter half of the 21st century would be drier than the 20th century in the region. "Notably, future drought risk will likely exceed even the driest centuries of the medieval climate anomaly, [a previous period of intense drought]" the paper said. California's governor, Jerry Brown, said in April: "People should realize we are in a new era. The idea of your nice little green grass getting lots of water every day – that is going to be a thing of the past." Residents of California have even started to "drought shame" neighbors and businesses for what they see as unnecessary or wasteful water use, using social media outlets such as twitter and a dedicated mobile telephone application.
Even if an era of worsening droughts does not occur, Kitchens is confident that diatomite and calcined clay will remain in high demand: "There is always a drought somewhere!" he said, adding "it is always a smart idea to conserve water, no matter the situation."
For more information on Axis DE and Clay soil amendments, click here.
To learn more about AgReady DE and Clay fertilizer carriers, click here.