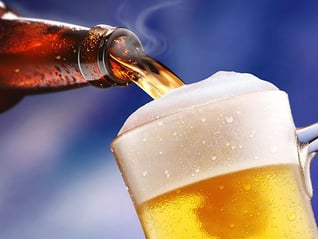 With input from a good story by Jason Notte, columnist for MarketWatch
Craft beer is going to have a Super Bowl commercial, and the folks behind Budweiser are going to make it happen.
Anheuser-Busch InBev isn't above trolling craft beer acolytes and making them cry — as evidenced by last year's "Brewed the Hard Way/Pumpkin Peach Ale" spot — but it's eventually going to use one of the biggest marketing weapons at its disposal if the rest of craft beer can't or won't.
During this year's Super Bowl on Feb. 7, when the price of a 30-second ad will come in around $5 million after costing just $2.5 million a decade ago, Anheuser-Busch InBev plans on tucking an ad for its Shock Top line of wheat beers among its ads for Budweiser, Bud Light and Michelob Ultra. While the Brewers Association and beer geeks may not consider Shock Top "craft," it's certainly the biggest step ABI has taken in that direction on Super Bowl Sunday.
Shock Top first appeared in 2006 as an answer to MillerCoors' Blue Moon Belgian White, which Blue Moon creator Keith Villa adamantly defends as craft. Since that time, Shock Top's line has expanded to include varieties including Pretzel Wheat and Pumpkin Wheat. For many years, Shock Top, like Blue Moon, was considered a gateway beer to those made by craft brewers. However, with Anheuser-Busch InBev picking up craft breweries including Goose Island, Elysian, Blue Point, 10 Barrel, Golden Road, Four Peaks and Breckenridge during the past five years, Shock Top has also served as a gateway to the beers of A-B's High End division.
It has to. Drinkers aren't just flocking to different brands; they're moving to more profitable ones. Import beer brands fetch an average of $29 a case, and super-premium brands like A-B's Shock Top and Goose Island sell for $27, compared with $20 for "premium" beers like Bud. Craft brands, however, fetch an average of $35 a case.
According to Nielsen, millennials are 34% more likely to drink beer than the average U.S. consumer, 34% more likely to buy imports, 26% more likely to buy craft beer, 74% more likely to buy malt beverages, and nearly twice as likely to buy hard cider. Which all means that this trend is only going to continue.
Craft brewers have always built their reputation on the "personality" of their beer. But how exactly does that come about? Well, a lot of things are key to the process, but the most important thing in making that awesome toasty Porter or blonde Ale is the filtration process you use to brew your beer. You want an all-natural filter system that produces the finest clarity, taste, and quality, and you want to use the highest quality filter aids. That means DE – diatomaceous earth. Learn more about DE for beer filtration: click here.
DE is the 20 million-year-old glass skeletons of microscopic plants known as diatoms. It makes for the most amazing filter aid for beer because of its structure, high pore volume and low resistance to flow. It's been used for centuries and by over 90% of the most experienced brewers in the world today because no other filter system can produce the results that DE does. It removes fine particles from beer without affecting the color, flavor or body. It's all natural, flexible and adaptable, letting you adjust your brewing standards to bring out the true personality of your beer. It lets you continue the art of brewing through the filtration process to produce the finest beer possible. Learn more from the top FAQs that we've been asked: click here.
So, what craft beer will you be drinking on Super Bowl day? A quick survey in our office gave the nods to Magic Hat #9, Arrogant Bastard Ale, Outlaw Oatmeal Stout, the local Reno favorite - Great Basin Ichthyosaurus - or "Icky" IPA and Shock Top, of course.