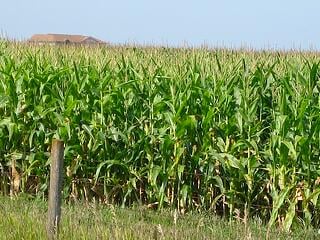 It's not easy being in the agricultural business these days. Rising costs, declining crop margins, regulatory pressure, water issues and nitrogen runoff problems. All the while trying to reduce your impact on the environment. What's a farmer to do?
Awhile back, some of our customers came to us asking if we could develop a product out of our diatomaceous earth or clay that they could blend with other products to help improve crop production. They wanted a blend that would improve water absorption by their crops as well as improve flow-ability and decrease clumping in products they were currently using.
Ta da! After lots of product testing, we came up with a perfect agricultural blending agent and fertilizer carrier - EP Minerals' AgReady™. AgReady is a granular diatomaceous earth (DE) or clay drying agent and carrier, designed specifically for the agricultural industry for crop production . Easy to use with dry or liquid agriculture blends, AgReady improves water absorption and the flow of nutrients to crops. Its low density makes it "ready" to use in blends today. We've developed AgReady in both DE and clay versions to meet our customer requests.
In the testing we've done, it proves effective in blending with:
Fertilizers and nitrogen stabilizers
Pesticides
Herbicides
Micro-nutrients
Micorrhizal innoculants
Beneficial micro-organisms
Benefits for today's farmers:
Improves flow ability
Reduces clumping caused by humid weather
Enhances soil aeration
Improves water-holding capacity
Saves money with increased efficiency
Watch the video showing AgReady MP-79 in action: http://www.youtube.com/watch?v=csepBZdXmls.