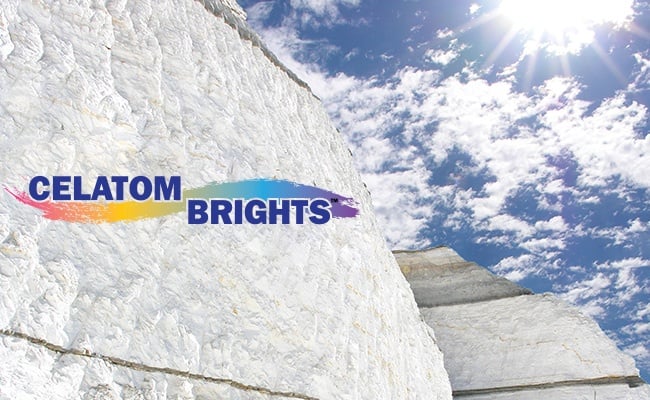 That bright white snow doesn't have anything on our Celatom BrightsTM functional additives! They're the brightest white diatomaceous earth (DE) and perlite products available, and perfect for the paint & coatings industry. Celatom Brights, EP Minerals' line of functional additives, are engineered just for paint and coatings. We've designed these high-efficiency materials for matting, texture and rheology. Our Celatom Brights product line includes flux-calcined DE, natural DE products without detectable crystalline silica (CS), perlite, cellulose and polyethylene (PE) thixotropes.
We're excited about these products for a few reasons. They're lower density, which gives you more performance with less additive. They have superior flatting efficiency. They improve TiO2 spacing. Oh, and did we mention? They're really bright white.
Our DE product without detectable CS:
CelaWhite™, the brightest natural DE available
Key advantages of our natural grades:
Lower density than competing products so you need less product
Superior opacity and flatting
Superior 60° and 85° gloss control
Less porosity, more stain resistant
High brightness
Uniform diatom distribution
Our flux-calcined DE products:
DE is not just a "filler" but a multi-functional mineral additive that can improve the overall performance of paint or coatings. In addition to the gloss and sheen control, DE also:
Provides titanium dioxide (TiO2) extension
Controls solvent release and open time
Controls polish or burnish
Helps control viscosity and shelf stability
Resists cracking
Provides consistent touch-up performance
Our 100% pure cellulose powdered product:
Pre-co-Floc

®

Strong, thickening effect. Better slump resistance. Crack inhibitor.
Our thixotropic polyethylene (PE) fibers product:
Our perlite product:
Celatom Perlite Very low "dry & wet" bulk densities. Lightweight texturing additive.
Learn more about Celatom Brights and their opacifying and matting capabilities. Check out our Celatom Brights product brochure. Contact your sales representatives or distributor today to learn more. It's time for a bright, white Christmas!