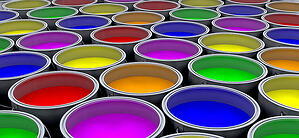 At the American Coatings Show (ACS) in Atlanta recently, the EP Minerals functional additives team met with a wide variety of paint and coatings customers and distributors to talk about new developments in the field, and to understand their biggest challenges today. What did we find out? Their top concerns ranged from regulatory issues to the high price of materials to inconsistency in products they buy for their formulations. One of the solutions we provided was the reintroduction of a product that we've been making for a while, but now have new customer results and findings from our R&D team. Pretty impressive for use in the paint and coatings market! It's called LCS-3. It's a unique, all natural diatomaceous earth (DE) matting additive that has many benefits. It went over really well with the customers and distributors we talked to. Here's why:
When replacing competitive products at equal volume loading, you will use 9% less by weight as compared to the leading competitive products. You can gain more performance with less additive in your paint formulations with LCS-3.
LCS-3 has less than reportable crystalline silica levels, which means more time for business and less time on regulatory issues.
It exhibits superior opacity and flatting efficiency
LCS-3 exhibits superior 85° sheen control
It has less porosity, which means more stain resistance
This product improves TiO2 spacing, so you can use 5-10% less TiO2 and save more money on your paint formulation
And, most importantly:
EP Minerals' unique ore deposits and production process produces more consistent product performance, which means that you'll spend less time on quality control issues. Our mines produce a consistent diatom species (95% of one species), which is an inherent property of our fresh water ore deposits. That, along with our production process & quality controls ensures that LCS-3 is very consistent from batch to batch.
What a great product. We just need to come up with a better name! Stay tuned for that development. For more information on LCS-3 or to talk to one of our paint and coatings experts, visit https://epminerals.com/products/celatom-brights.