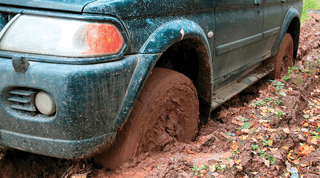 Traction Pro can get you out of the mud.
We've all been hearing about the possible upcoming 'Godzilla blob' El Nino winter that might be in store for us this year. I hope this week's 1,000 year rainfall in South Carolina isn't an early sign of things to come. We need rain and snow this year, but a storm like that? Holy moley!
Living at the foot of the Sierra, we know that snow and bad weather are possible any time after the end of September. We know that it's time to keep the car stocked with blankets, water and something to keep you from getting stuck in the mud or snow.
And, just in time for winter, EP Minerals brings out a new traction control product, Traction Pro, that's going to be a staple in the trunk of my car this winter.
Traction Pro is a new all weather, all season, traction product with no added chemicals, designed to provide instant traction in mud, snow and ice. It's a unique 100% calcined clay formula that provides a sandpaper-like traction grip when applied to roads or slippery surfaces, so it dramatically improves driving and walking conditions.
I talked to Jeff Kitchens who is in charge of the performance aggregate side of our business and he said "Traction Pro is a whole new kind of traction control product. It'll give you traction in the snow, ice, mud – you name it- and there are no added chemicals, so it won't harm trees, grass, concrete or asphalt like a salt product would," he added. "Plus, it embeds into the ice and snow and continues to work even with constant thaw and refreezing."
Sounds like Traction Pro is the handy product to keep in your car or truck, around the house, and at the office to use in any kind of bad weather that produces slick conditions. Traction Pro helps prevent "slip and falls". I know we'll keep several bags around our office for those shady spots that keep freezing and the back stairway this winter. Its natural brick red color makes it easily visible on ice and snow, without any additives or dyes.
To learn more about Traction Pro, click here or contact you local sales representative.
Bring it on, Mr. Winter! But not for a little bit yet. I'm still enjoying our 85 degree days!