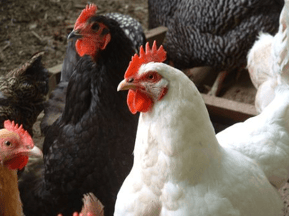 Repurposed with information from urbanchicken.org
Many chicken keepers swear by organic earth (DE), as it provides a variety of positive benefits for both your flock and your household.
OMRI-certified food chemical codex (FCC) diatomaceous earth:
Is a natural pest deterrent for your home, your chickens, and other pets.
It keeps your flock healthy by killing ticks, fleas, and digestive worms.
It naturally keeps cockroaches and other pests out of your house, and away from your chicken feed containers.
It can provide your birds with valuable trace minerals.
It is good in the garden, as it will kill aphids and other pests naturally.
What is it and how does it work?
Diatomaceous earth is the fossilized remains of Diatoms, which are microscopic one-celled algae.
It kills bugs and unwanted pests by desiccation, which means it cuts their exoskeleton and dries them out. No nasty chemicals!
How do I use/apply it?
It's a very fine powder, so sprinkle it where you need it - in your chicken coop area, behind or under major appliances, sprinkle a perimeter around your house and property, and around chicken feed bins.
For more information on DE for agricultural use, including chickens, click here.