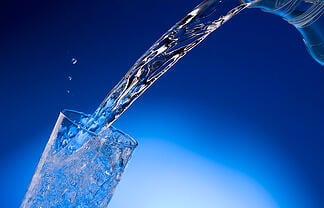 NXT-2 filter media removes arsenic from water
We've all been thinking more about the water we drink lately after learning about the tragic situation with the municipal water system in Flint, Michigan. In the US, water is one of the things we all take for granted every day. We usually don't think twice about drinking the water from our taps at home or work. But that's not true in a lot of areas around the world today, and even in many areas of the US. Why? It's not because of contaminated pipes like in Flint. It's because of arsenic.
Arsenic in water is a problem. It's naturally in groundwater, and it can seep into local water systems and private wells. While it's an element found in the earth's crust from millions of years ago, it can be very toxic at high levels. According to the Center for Public Integrity, arsenic is known to cause a variety of cancers as well as being linked to heart disease, strokes, and diabetes. Recent research has found an association between arsenic and IQ deficits in children. Most private well owners have never tested their water for arsenic. More than 40 million Americans drink from such wells; of those, the U.S. Geological Survey estimates that as many as 3 million consume water that wouldn't meet the EPA standard.
This is the second post in a series about arsenic and EP Minerals' patented filter media NXT-2 that removes arsenic from water. I followed up last week with Sidney Mascarenhas, EP Minerals' Water Technical Sales Manager, and Paul Fish, Director of New Business Development, to learn even more about applications for NXT-2. Read the first NXT-2 post here: NXT-2 for Arsenic Removal
Where is arsenic a significant problem?
The World Health Organization (WHO) states that arsenic is naturally present in high levels in the groundwater of several areas around the world including India, Africa, parts of Europe and in here throughout the States in Nevada, California, Washington, Maine, Minnesota, Florida, and Texas. It's commonly found in areas that are suitable for farming. Chile, Argentina, the UK, India, and Bangladesh have some of the biggest problems in the world. It can also be very localized so places only a few miles from each other will have dramatically different levels of arsenic. The WHO states that the most urgent action is the prevention of further exposure to arsenic by a provision of a safe water supply. If your water has arsenic levels above 10 ppb, you need to get drinking water from another source or install an arsenic removal system.
What kinds of customers use NXT-2?
We're involved in a lot of municipal drinking water systems, rural water systems, schools and private water use systems right now. There's more awareness today about the WHO guidelines and the dangers of arsenic to people. Our customers just want an effective solution to remove arsenic from industrial and potable water. NXT-2 is also used in the mining, petroleum and power industries. The industrial use is the same as the municipal water system use – to remove arsenic from the water, whether it's processed water or not. NXT-2 also removes phosphorous.
Why does phosphorous need to be removed?
Phosphorous leads to algae growth that leads to out-of-control bacteria growth. Excessive algae growth leads to eutrophication. This is when the lake becomes rich in dissolved nutrients and deficient in oxygen. This can result in risks to people when the algae blooms are near drinking water intakes and to fish and other wildlife in or near that water.
How does NXT-2 work in mining?
By removing the arsenic, it prevents contaminants from entering the local community's ecosystem and protects human and environmental health. In gold, silver, and copper mining, there are strict water quality standards for effluent water and discharge water after it leaves the facility. By using NXT-2, the mines decrease their impact on the environment. It's a big deal.
Why is NXT-2 so effective? It removes arsenic in typical and challenging environments. It reacts best with high pH and high competing ions. And, the NXT-2 retains the removed arsenic so that it's not released back into the environment. Our product has been proven to be more robust and effective, especially where there are competing ions. Other products work on the same mechanism, but this product is unique. With NXT-2, the bond of arsenic is very strong – and so it doesn't release the contaminants back into the environment. NXT-2 is also stronger over a wider pH range.