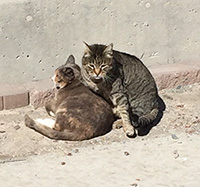 Meet Tracy & Clark, our kitty litter experts.
Pet lovers around the world are spending more than ever on their furry friends. Not just on buying and providing basic care for their friends, but on "pet pampering," which has become the norm for most pet owners. Pet spending has moved way beyond food and grooming because in most households now, pets are part of the family and deserve special treatment. According to the American Pet Product Association, Americans spend over $50 billion on pet products and services every year. China spends over $2 billion alone. Pet ownership is on the rise with almost 70% of households having a pet. 46% of households own more than one pet.
Cats vs. Dogs
Cats win! Almost 25% of pet owners have cats; 20% have dogs. Why the increase in pet ownership and spending? Pet ownership has been shown to be healthy. Having a constant, affectionate buddy helps reduce stress and lower blood pressure. Daily walks provide fitness for us and our pet, and studies show that the companionship of an animal lowers the risk of heart disease.
Research also shows that several shifts are occurring which have contributed to a rise in pet ownership. Our population is aging, with baby boomers continuing to reach retirement age. A large number of baby-boomers are buying pets, especially as their children head off to college or move away to pursue their career. There are also more single people in the United States than ever before, as young people are getting married later and divorce rates remain high. All this adds up to a veritable pet-buying frenzy.
All Natural Products in High Demand
Pet owners want the best for their pets and are willing to pay for it. Just like the rise in natural supermarkets and organic products, pet owners want the same for pets. . Pet products in natural supermarkets experienced an over 8% increase of sales in the fiscal year ending in February 2014.
The Demand for Lightweight Kitty Litter
Cat owners today want a lightweight, all-natural, absorbent kitty litter. This is a picky group that's tired of hauling around the huge containers of kitty litter and wants a litter that's light and easy to handle, absorbs well and one that their kitty doesn't track around the house. Aha! That's where the diatomaceous earth comes in! New blends of kitty litter contain unique, granular diatomaceous earth. It's incredibly absorbent and light. DE is the perfect mineral that smart formulators today are using in their kitty litter blends. Learn more about DE for kitty litter: click here.
Meet our rescue kitties, Tracy & Clark!
We have a couple of feline supervisors at our Clark diatomaceous earth plant. Meet Tracy, a big grey tabby, and Clark, a wily calico. Their names come from NV Energy's Tracy Clark power plant, which is right down the highway from our Clark plant. These two cuties have been adopted by our Clark plant team headed up by chief "cat mom" Sharron Wilson. They have a little kitty house right outside the main office so they can keep tabs on visitors to the Clark plant, and also to oversee the Clark team, who keep them very well fed. Tracy & Clark give our lightweight Petsorb DElite product two paws up!
Research sources: marketresearch.com, franchisehelp.com/industry-reports/pet care