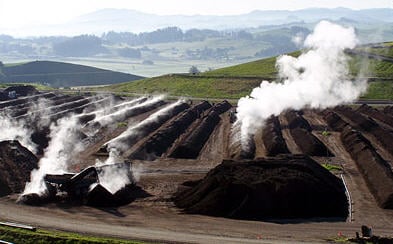 DE used in composting, Sonoma, CA
At EP Minerals, we're not like any other company. We're different. And we think that's a very good thing.
What exactly do we mean by that?
We appreciate the importance of working closely with our customers to help maximize our products' performance. We value the importance of direct contact with our suppliers to ensure clarity on our exact requirements, and the importance of a sound working environment to help our team work together to achieve all our goals.
We don't just believe in being a good company to work for and a good corporate citizen in the communities where we live and operate. We also believe in being a good environmental steward in how we conduct our business. As important to us as our customers and our employees is our commitment to the sustainability of our operations around the world.
Here are five ways that highlight that commitment:
1. We are helping our customers recycle our minerals.
Many of our customers use our minerals, primarily diatomaceous earth (DE) for filtration – for wine, beer, juice, and other beverages. After filtering the product, the customer is left with a by-product called "spent cake." We've worked diligently with many of our customers to identify local sustainable alternatives to recycling the spent cake instead of it ending up in a landfill. In the wine country in California, we've worked with several customers to take the spent cake from wineries to recycle it into organic compost. Read more here: http://blog.epminerals.com/recycling-diatomaceous-earth-spent-cake-at-sonoma-compost
We've also worked with Iowa farmers to take the spent cake from filtration and recycle it into fertilizer. In one particular trial, this effort potentially diverted 9000 tons of waste from going to a landfill. Read more here: http://blog.epminerals.com/recycling-diatomaceous-earth-spent-cake-from-filtration-into-a-fertilizer
At the moment, we're running several DE spent cake recycling programs for customers, using varied sector-specific technologies for a variety of different industries. Diatomaceous earth is sustainable. If you're interested in recycling your DE spent cake, please contact us. We'll help!
2. We produce natural products.
A good number of our entire product line are considered natural products, with new natural products being introduced all the time. This year, we launched our EP Naturals line of products, a new line of agricultural products made from diatomaceous earth (DE) and Montmorillonite clay. Mined and produced specifically for farmers and ranchers, these products are OMRI-certified solutions for today's agricultural industry. To learn more click here.
3. We have long term reclamation plans and wildlife programs in place.
Reclamation is an ongoing activity at all our mining operations. Once mining in an area has been completed, reclamation activity begins. We recontour and reseed using native plants and shrubs, returning the land to a state similar to the original habitat. We're committed to the wildlife in the areas that we operate including the sage grouse, wild horses, burros and bighorn sheep. Read more here: http://blog.epminerals.com/ep-minerals-provides-desert-bighorn-sheep-habitat-an-guzzler
4. We're reducing our carbon footprint.
At every plant, mine, and office location, we have metrics in place to measure everything we do, and everything we use. We are always striving for continuous improvement. We continuously assess new technologies and methods of production to reduce energy use, maximize air quality, and minimize water usage. We operate regular instruction and training courses to increase operator awareness of safe practice at our production sites.
5. We're committed to giving back in our communities.
About a year ago, we launched a program called the EP Way. While we've been consistently giving our time and donations to important causes in our communities, we decided to define better our efforts and become more directly involved in local community activities. The EP Way is our program specifically targeted at helping families in need and especially kids in all the places we do business. From the Boys and Girls Clubs, to the Food Banks, the MS Society, Babe Ruth, and Little Leagues and so many other causes, we team up with our employees to give our time and financial support in the communities where we live and work.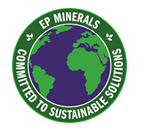 Learn more about EP Mineral's commitment to sustainable solutions click here. And, to learn more about how your company can become more sustainable with our products, talk to your sales representative today.